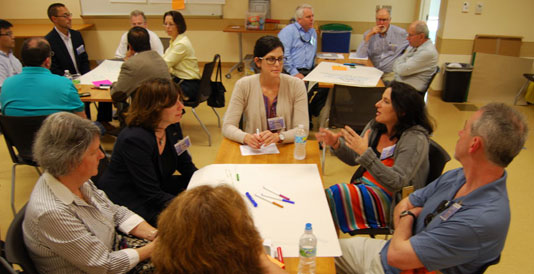 April 30, 2015 -
On April 17, 2015, FCI hosted the first joint working meeting with
The Southeast Florida Regional Climate Change Compact (Compact)
at the
Center for Environmental Studies
at Florida Atlantic University Davie Campus. Together the group identified collaborative opportunities to help Florida meet the challenges of global climate change. Members of the Compact Steering Committee from Broward, Miami-Dade, Monroe and Palm Beach Counties, as well as researchers from Florida Atlantic University, Florida International University, Florida State University, University of Miami and University of Florida presented. Representatives from Florida Institute for Health Innovation, the South Florida Water Management District, Southeast Climate Consortium and Nova Southeastern University attended. Highlights included an invitation to work together on the Broward-led Resilient Redesign II, a continuation of the effort started in 2014 selecting three pilot sites for climate change related redevelopment. Miami-Dade announced that FCI would be welcome to assist for their Indicators Working Group, particularly with health impacts.
In a dynamic networking exercise, Compact and university partners explored two questions central to the meeting: How can the FCI better work with the Compact? How can the Compact better work with the FCI? A detailed list of needs and action items resulted. For example, Compact partners expressed the need to develop climate change economic models, risk assessment information, and communication strategies.
While some opportunities lend themselves to participation from universities in southeast Florida, joint efforts are open to all FCI members. Since the formal inception of the FCI-Compact partnership in 2014, both partners have expressed the desire for an inclusive working relationship promoting the ideals of the agreement: (1) to seek better alignment between public sector information/management needs and ongoing university research, and (2) to improve coordination between the Compact and FCI universities in pursuing competitive funding opportunities. Achieving these goals will ensure that together both partners are well-positioned for competitive grant opportunities and are jointly advancing Florida's environmental, social, and economic sustainability through applied research and planning collaborations. April's workshop represented another step on that journey.
For more information on the FCI-Compact Partnership, please contact
This email address is being protected from spambots. You need JavaScript enabled to view it.
.