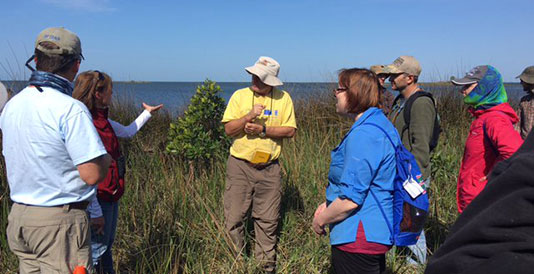 April 26, 2017 - The first Florida Climate Institute Field Course was held this spring and hosted by the University of Florida. The course, titled Sea Level Rise and Coastal Ecology: Science, Policy, and Practice, was formed in order to provide opportunities for graduate students to practice collaborating across disciplines to solve complex natural resource problems. There were five interdisciplinary groups that consisted of three students from distinct programs of study: one student from the Levin College of Law, one student from the College of Agriculture and Life Sciences, and one student from the College of Liberal Arts and Sciences. Each group was assigned a case study of local relevance to natural resources in the Big Bend region. Each natural resource case study was associated with problems presented by sea-level rise and climate change in the region.
To view a video about the course, please visit https://youtu.be/IPTyZIrwhUw.
For more information and to download course materials, please visit https://floridaclimateinstitute.org/projects/2017-field-course.