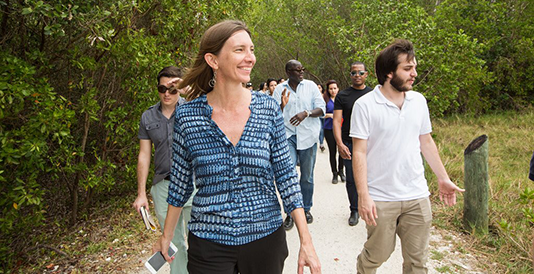 March 28, 2017 - The National Academies of Sciences, Engineering, and Medicine has appointed a committee of experts, including Tiffany Troxler of FIU, to conduct a study on Developing a Research Agenda on Carbon Dioxide Removal and Reliable Sequestration.
Reaching lower global temperature targets recently set by the international community to avoid climate risks may require removing greenhouse gas that's already accumulated.  However, many of the proposed carbon dioxide removal (CDR) technologies are not yet viable in terms of cost and scalability, and any potential risks are not fully understood.
This study will develop the detailed research and development agenda needed to assess the benefits, risks, and sustainable scale potential for CDR and sequestration approaches and increase their commercial viability. Approaches considered will include land management, accelerated weathering, bioenergy with capture, direct air capture, geologic sequestration, and blue carbon, among others.
The committee slate is provisional pending a public comment period and final approval by the National Academies.