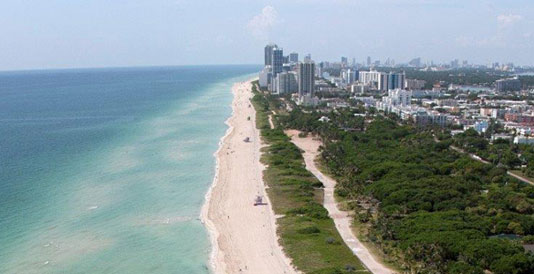 July 22, 2015 -
The White House's Council on Environmental Quality named Florida International University (FIU) as the host for its first Federal Emergency Management Agency (FEMA) seminar on developing locally relevant exercises supporting community resilience to climate change. The seminar will focus on climate adaptation, preparedness and resilience.
The news of FIU's selection follows months of active advocacy by the university's
Sea Level Solutions Center
targeting increased federal attention to South Florida and promoting FIU's own strengths in climate change research and environmental resilience engagements.
South Florida serves as ground zero for climate change in the United States and FIU scientists have predicted sea levels to rise by 9 to 24 inches by 2060. The seminar is set to take place September 21-22 at the FIU campus in Miami. The White House issued a
press release
on actions to build resilience to climate change and more detail on FIU's partnership with FEMA.
FIU Press Release