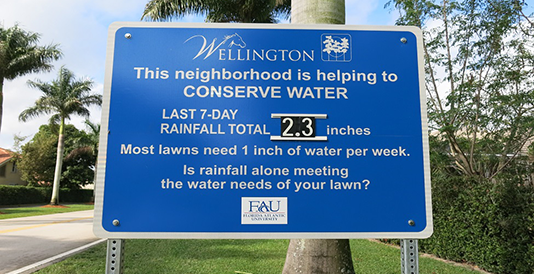 June 20, 2017 (Source: FAU) - Rain or shine has new meaning thanks to an innovative, inexpensive and simple tactic developed by researchers at Florida Atlantic University that will really change how people think about watering their lawns. The tactic? A straightforward road sign.
Outdoor water restrictions are a common water conservation strategy in the United States, Canada, Australia and other countries to address water use as it relates to maintaining lawns and greenspace. In fact, 29 states in the U.S. have outdoor water restrictions that only allow lawn watering on certain days or times. Conserving water is critical because 50 to 90 percent of household water is used for this purpose. Furthermore, to provide each South Florida lawn with the necessary one-inch of water per week, it takes more than 62 gallons of water for every 10-foot-by-10-foot area.
However, this one-pronged approach of water restrictions that involves pre-set and arbitrary lawn-watering schedules does not always result in actual water savings so Tara Root, Ph.D., associate professor in the Department of Geosciences in FAU's Charles E. Schmidt College of Science, and Felicia D. Survis, who recently earned her Ph.D. at FAU, decided to do some research.
For two years, which included two annual wet and dry seasons, they conducted a unique study in Wellington, a suburban village in South Florida, to demonstrate how you can save a lot of water by simply providing people with more information than just directives, schedules or guidelines about which days of the week they can water their lawns. Wellington provided the perfect venue for this study since the village is located in a region that has distinct wet and dry seasons and that is subject to permanent year-round mandatory water restrictions. Additionally, Wellington was interested in the research and helped to implement the pilot program.  Results of their study are published in the current issue of the Journal of Environmental Management.