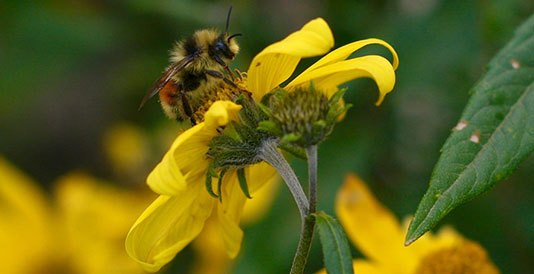 September 29, 2017 (Source: FSU) - New research from a team of Florida State University scientists and their collaborators is helping to explain the link between a changing global climate and a dramatic decline in bumble bee populations worldwide.
In a study published Friday, Sept. 29, in the journal Ecology Letters, researchers examining three subalpine bumble bee species in Colorado's Rocky Mountains found that, for some bumble bees, a changing climate means there just aren't enough good flowers to go around.
The team analyzed the bees' responses to direct and indirect climate change effects.
"Knowing whether climate variation most affects bumble bees directly or indirectly will allow us to better predict how bumble bee populations will cope with continued climate change," said FSU postdoctoral researcher Jane Ogilvie, the study's lead investigator. "We found that the abundances of all three bumble bee species were mostly affected by indirect effects of climate on flower distribution through a season."