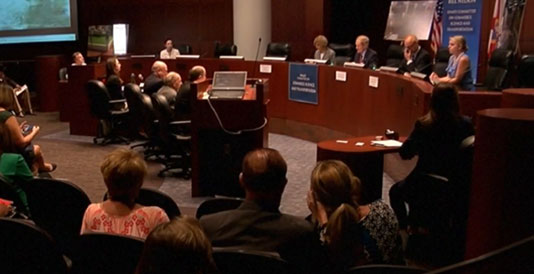 April 11, 2017 - U.S. Sen. Bill Nelson (D-Fla.), the ranking member of Senate Committee on Commerce, Science, and Transportation convened a full committee field hearing titled "Extreme Weather and Coastal Flooding: What is Happening Now, What is the Future Risk, and What Can We Do About It?"on Monday, April 10, 2017 at 1:30 p.m. EDT in West Palm Beach, Florida.
The hearing examined the impacts of sea level rise and extreme weather events.  Since 2006, sea level rise in southeast Florida has tripled, averaging about nine millimeters a year.  The resulting impacts of coastal flooding, saltwater intrusion, storm surge, and land erosion on Florida's coastal communities have prompted local governments to act.  Following Hurricane Sandy, Palm Beach County restored over 20 acres of beach and sand-dunes to protect shoreside communities from flooding and severe weather. Sen. Nelson led a discussion on the economic impacts of extreme weather and coastal flooding to communities, as well as future risks and efforts to address the problems.
The field hearing included 2 witnesses from the Florida Climate Institute: Dr. Ben Kirtman (UM) and Dr. Len Berry (Coastal Risk Consulting; FAU). The full witness testimonies are available at the hearing webpage link below.
Witnesses:
*Dr. Ben Kirtman, PhD, Director of the Cooperative Institute for Marine and Atmospheric Sciences; and Director of the Center for Computational Science, Climate, and Environmental Hazards at the University of Miami 
*Dr. Leonard "Len" Berry, PhD, Emeritus Professor of Geosciences at Florida Atlantic University; and Vice President of Government Programs at Coastal Risk Consulting, LLC
Mr. Carl G. Hedde, CPCU,  Senior Vice President; and Head of Risk Accumulation and Munich Reinsurance Company of America
Dr. Jennifer Jurado, PhD, Chief Resiliency Officer; and Director of Environmental Planning and Community Resilience at Broward County
*FCI Researcher
Hearing Webpage with Testimonies