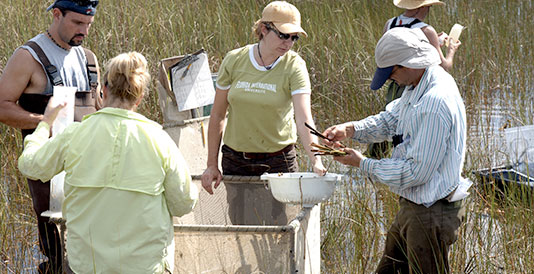 February 22, 2017 (Source: FIU) - Researchers are taking a step back to answer the question whether long-term studies are helping save plants, animals and the places they call home. The global answer is yes. FIU researchers are gathering data in the Florida Everglades that provide critical information needed for restoration and conservation. They've been doing this for more than a decade.
The Everglades is made up of different ecosystems, including swamps, hardwood hammocks, mangrove forests, pine rocklands and sawgrass marshes. Their interconnectivity makes them especially susceptible to changes in the environment.
FIU's long-term approach to studying the Everglades allows scientists to understand how it works, and it allows them to predict how it will respond to changes in the future. For more than 16 years, scientists in FIU's Florida Coastal Everglades Long Term Ecological Research (FCE LTER) Program have been studying how water, climate and people affect the Everglades. Their efforts have resulted in more than 500 peer-reviewed journal articles to date.
In a new paper, FIU researchers outline the value of international long-term research, how it has played into what is known about the Everglades and other wetlands, and how it can help solve current and future ecological problems. It is part of a four-paper special feature on international long term ecological research published in Ecosphere.