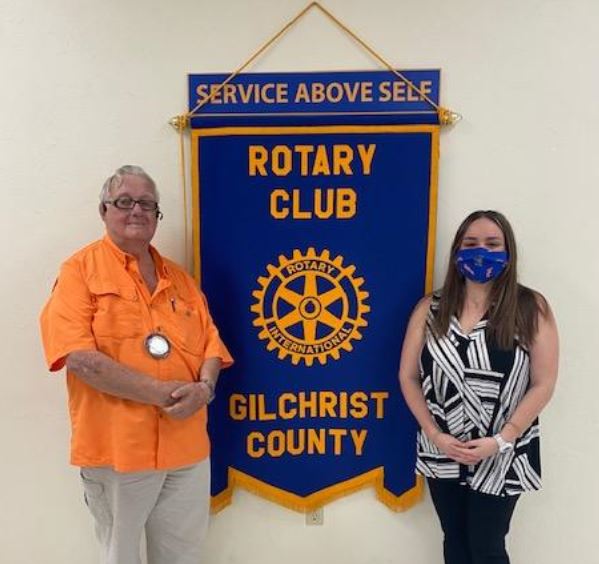 Lacey Lingelbach (pictured in photo on right), the first Florida Student Climate Fellow at FCI, has been completing her Rural Florida Climate Connections Project since April. This project shares her research on barriers to climate action in rural inland Florida and solutions for it with various stakeholders. Through her Climate Roadshow, she has been speaking about local climate projections and solutions to rural Rotary Clubs, Kiwanis Clubs, and Chambers of Commerce in North Florida. She also plans to write opinion editorials on these trends and actions for local newspapers such as the Tallahassee Democrat, Jefferson County Journal, and Valdosta Daily Times.
Finally, she is reaching out to those outside of these communities that can provide them support or further explore the gap in rural climate action in Florida, such as the Florida Climate Institute. You can find her undergraduate research thesis entitled "Beyond Rising Seas: Understanding Climate Planning Challenges in Rural Inland Florida" here.
During her time at UF, Lacey has earned a bachelor's degree in environmental science and two minors in public leadership and economics. After her involvement with local activism for the toxic algae blooms in Lake Okeechobee in 2016, she was inspired to pursue this degree where she has primarily focused on water and climate policy at the local level.  During her time, she has interned with UF/IFAS Extension, the City of Gainesville, and the Martin County Growth Management Department. She has also been heavily involved in civic engagement activities through her volunteering with the FL YMCA Youth In Government program and UF's Bob Graham Center for Public Service.
FCI at UF has awarded 6 exceptional students who have proposed original research ideas that they will pursue beginning this summer. Each student has included a problem statement, proposed solutions, broader impacts assessment, and a plan for impacting Florida communities through outreach and communications. 24 proposals were submitted from almost every college on campus showing the magnitude of climate issues facing Florida.
Check out the list of awardees below, including our first fellow spotlight on Lacey Lingelbach!  
Emily An, Marine Science major in Geological Sciences, Ellen Martin mentor, Sea level rise and ice sheet outreach to student groups, high schools, and 4-H
Cameron Brousse, Sustainability and the Built Environment major, Hal Knowles mentor, Scaling up energy outreach programs for FL counties
Lacey Lingelbach, Ag Ed and Communications major, Cynthia Barnett mentor, Rural FL Climate Connections Roadshow presentations and op-eds
Ailee Odom, Natural Resource and Conservation major, Martha Monroe mentor, Developing climate materials in 4-H youth clubs 
Marlowe Starling, Journalism major, Brett Scheffers mentor, Using data visualization tools to communicate invasive species risks
Umi Thorat, Computer Science major, Kathe Todd-Brown mentor, Carbon sequestration in coastal ecosystems and outreach