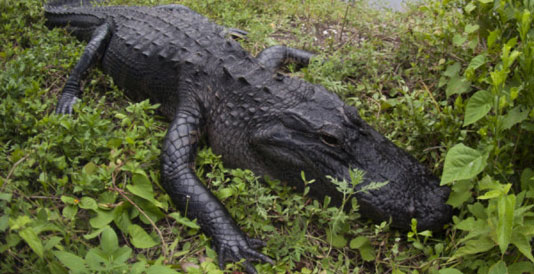 September 14, 2015 -
South Florida is on the front lines in the war against invasive reptiles and amphibians because its warm climate makes it a place where they like to live, a new University of Florida study shows. Using computer models and data showing where reptiles live in Florida, UF/IFAS scientists predicted where they could find non-native species in the future. They found that as temperatures climb, areas grow more vulnerable to invasions by exotic reptiles. Conversely, they found that extreme cold temperatures protect against invasion.
"Early detection and rapid response efforts are essential to prevent more of the 140 introduced species from establishing breeding populations, and this study helps us choose where to look first," said
Frank Mazzotti
, a wildlife ecology and conservation professor at the University of Florida Institute of Food and Agricultural Sciences Fort Lauderdale Research and Education Center. The new study is published online in the journal Herpetological Conservation Biology. Lead author Ikuko Fujisaki, an assistant professor of wildlife ecology and conservation at the Fort Lauderdale REC, said scientists conducted the study to provide scientific data for managing invasive wildlife in the Sunshine State.
UF Press Release
Herpetological Conservation Biology Journal Article