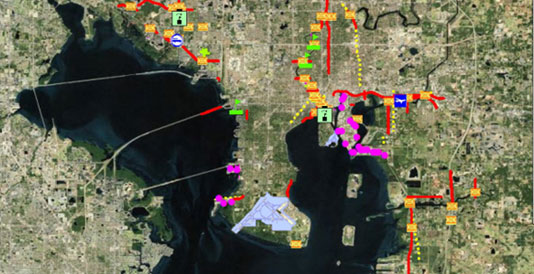 April 30, 2014
- A visualization tool has been developed by the University of Florida Urban and Regional Planning research team directed by Dr. Zhong-Ren Peng as part of the Mississippi-Alabama Sea Grant Consortium project "Development of Sea Level Rise Adaptation Planning Procedures and Tools Using NOAA Sea Level Rise Impacts Viewer." The tool helps local planners identify the most vulnerable infrastructures and places using the inundation data provided by the NOAA Sea Level Rise and Coastal Flooding Impacts Viewer. Using the online visualization tool (University of Florida sea level rise viewer), the users can easily view the estimated vulnerability under 1-foot, 2-foot, and 5-foot scenarios. Detailed information regarding the vulnerable infrastructure and the vulnerable census block groups can also be viewed.
The tool is available at
http://plaza.ufl.edu/dengyujun11/SLR7.0.html
. More information regarding the viewer could be found at NOAA's website
http://csc.noaa.gov/digitalcoast/stories/tampa-viewer
.