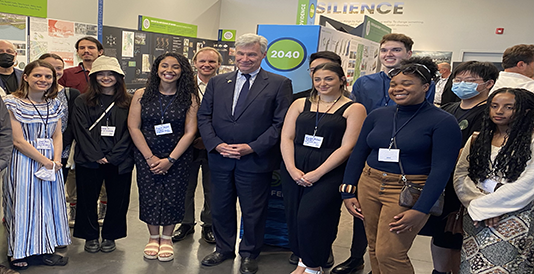 Senator Sheldon Whitehouse was impressed by UF students from Architecture, Historic Preservation, and Journalism who participated in a 6-university challenge to reimagine Narragansett Bay coastal communities during this past semester. All teams traveled to the sites, interacted with local residents and experts, participated in a 10-week lecture series, and created inspiring visions for the future of the Bay.
Professor Jeff Carney led his second group of Architecture students in the Envision Resilience Challenge this year after a huge success in Nantucket last year. Linda Stevenson led the Historic Preservation students and Cynthia Barnett the Journalism students.
This program, coordinated by Carolyn Cox, offers students the chance to work across disciplines, across universities, and within real communities to make an impact while gaining professional experience. This year's teams hail from UF, Northeastern, Syracuse, Roger Williams, U Rhode Island, and the Rhode Island School of Design (RISD).
Student work will be on exhibit at the Waterfire Arts Center in Providence, RI through June 26.
For more information, see https://www.envisionresilience.org/.