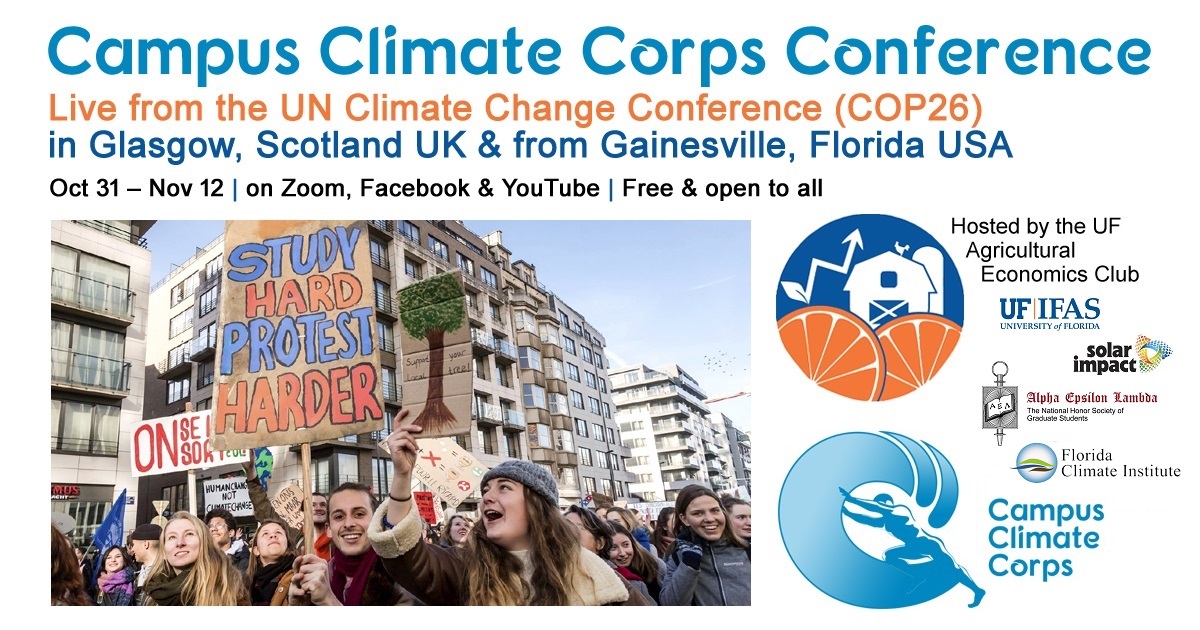 Rock Aboujaoude, Jr., a 24-year-old UF graduate student, will host these Nov 1-12 daily conversations at 7pm on Zoom/Facebook/YouTube. See below for link to register.
Aboujaoude, a UF interdisciplinary ecology master's student, will be connected live through Zoom from Glasgow, Scotland where the U.N. Climate Change Conferences convenes and will provide live updates each night until the U.N. conferences wrap up Nov. 12.  Aboujaoude will be on the ground tracking down delegates to interview and invite to speak at the daily briefings. In the past, he has tracked down Al Gore, Harrison Ford, John Kerry and the U.N. Secretariat.
Few nations are on track to reach the target goals set by the Paris Climate Accords if innovation and change aren't demanded immediately, Aboujaoude said. Failure to achieve the goals will likely result in more than the suggested global warming limit of well below 2 degrees Celsius. "Pressuring world leaders is the best way to get this done," Aboujaoude said. "There's no better time to get the world leaders to pay attention than at an actual climate summit." Aboujaoude believes the university will pioneer student involvement with U.N. climate conference delegates.
"UF students will be able to participate in a much grander scale than any year previously with the negotiations," Aboujaoude said. "We can encourage student participation in the largest climate conference that the world has."
The Paris Agreement works on a 5-year cycle. With the last adoption in 2015, Aboujaoude decided to propose this special event. He also wants to boost involvement now that the U.S. has officially rejoined after former President Donald Trump's withdrawal in 2017. 
Aboujaoude said he hopes to have similar conferences at UF and other U.S. universities in the future. "It's young people who stand to lose the most at this stage in our life if the climate crisis isn't solved," Aboujaoude said. "This is our moment to shine."
Students as well as non-students can register for the conference and receive a meeting link from the Campus Climate Corps website.
Also follow Climate Central as a great source for the conference:
Check out our guide to next week's UN Climate Change Conference—and see what the outcomes could mean for future warming at 240+ stations across the U.S.