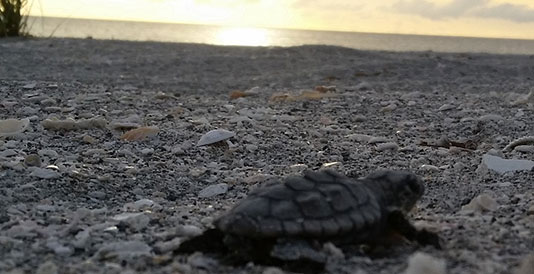 February 8, 2018 (Source: FAU) - Who's your daddy? No, it's not a TV clip from "The Jerry Springer Show" to identify who the "real" father is. Rather, it is a groundbreaking study of sea turtle nests and hatchlings using paternity tests to uncover "who are your daddies?"
The study conducted by researchers at Florida Atlantic University and published in PLOS One , is the first to document multiple paternity in loggerhead sea turtle nests in southwest Florida. What started out as a study on female sea turtle promiscuity – females can have multiple partners and can store sperm for more than three months after mating events – is proving to be very good news for this female-biased species facing rising risks of extinction due to climate change.
Due to their accessibility, nesting female sea turtles, nest success, and hatchlings are frequently examined and used for demographic studies and population models (key areas for the management of imperiled species). Yet, there is very limited understanding of the proportion of adult males and males approaching sexual maturity in any sea turtle population. Consequently, male sea turtles' reproductive behavior is poorly understood and adult sex ratio cannot be estimated directly.
"Studying sex ratios of adult sea turtles in the ocean is logistically difficult because they are widely distributed and males are especially difficult to access because they rarely come to land," said Jacob Lasala, corresponding author of the study and a Ph.D. student working with Jeanette Wyneken, Ph.D., co-author and a professor in the Department of Biological Sciences at FAU's Charles E. Schmidt College of Science. "We decided to use a different approach and measure 'breeding sex ratios' using genotyping to examine the number of male sea turtles that contribute to nests."