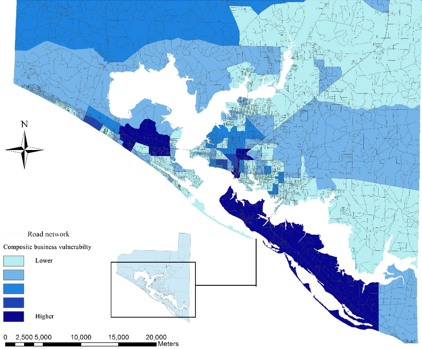 August 1, 2016 - A study conducted by a research team including members from University of Florida, Texas A&M University, and Virginia Polytechnic Institute and State University shows that business vulnerability to flooding will be escalated substantially by sea level rise. The findings show that considerable amount of areas, businesses, and road networks would be exposed to highest flood-risk zones due to sea level rise. To quantify the vulnerability of businesses to environmental hazards, the team established a conceptual framework of business vulnerability index incorporating business characteristics, infrastructure factors, and other indicators. A mapped index was displayed in Bay County, Florida.
A research paper about this topic has been accepted for publication in the journal Natural Hazards. The paper is titled "Developing a theoretical framework for integrated vulnerability of businesses to sea level rise" and co-authored by Jie Song, Zhong-Ren Peng, Liyuan Zhao, and Chih-Hung Hsu. 
Image caption: Composite Business Vulnerability Index in Bay County, Florida.