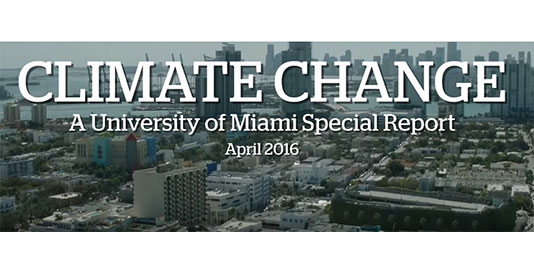 April 20, 2016 - The University of Miami's University Communications has released a Climate Change Special Report showcasing the work of the University's scientists, researchers, faculty, staff, students and alumni in the areas of climate change and sustainability.
For nearly six months, a team of writers, editors, videographers, photographers, and web developers and designers worked on this report, which encompasses more than 40 articles, photo galleries, videos, and interactive polls and social engagement.
This report looks at the areas of ocean and atmospheric research, renewable energy options, sustainable design and infrastructure, the spread of vector-borne diseases and health concerns, and population migration impacted by the changing environment, among other topics of interest.
Dozens of sources were interviewed for this report, which quotes or mentions more than 70 faculty, students, alumni and staff, and touches all the University's 11 schools and colleges.