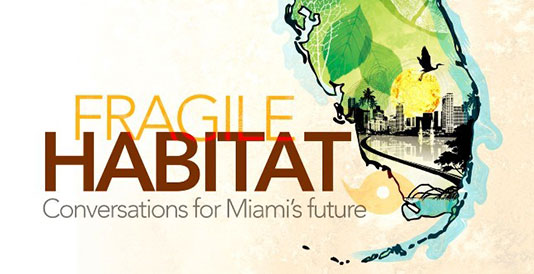 March 23, 2016 - The National Endowment for the Humanities (NEH) has chosen FIU's History Department in the Steven J. Green School of International and Public Affairs (Green School) as the only Florida recipient of a Humanities in the Public Square grant. The grant funds a series of public events, programs, and conversations showing how the humanities can help us come to terms with the threats to Miami from climate change.
"We need more than science and policy right now," said project director April Merleaux, environmental history professor at FIU. "With this NEH grant, FIU will be able to share another view of some of today's most pressing issues. We look forward to engaging our community in these important conversations as we imagine our future in South Florida."
Led by Merleaux and Rebecca Friedman, faculty fellow at FIU's Office of the Provost and director of FIU's Polish Lecture Series, FIU will team up with HistoryMiami Museum, the Wolfsonian-FIU, The Kampong, Vizcaya Museum & Gardens, Miami-Dade County Public Schools, Catalyst Miami, and the FIU Green Library Digital Collections Center. The project will feature faculty experts from the Green School, the College of Architecture + the Arts and the College of Arts, Sciences & Education.
A total of seven events will feature literary and religious studies experts, historians, philosophers, geographers and other scholars sharing their perspectives on risk, fear, hope and resilience, among other themes related to sea level rise and climate change.