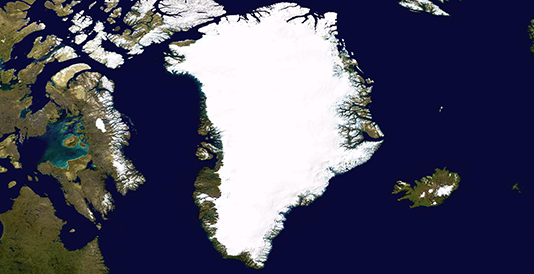 January 22, 2016 -
Scientists from the University of South Florida, along with colleagues in Canada and the Netherlands, have determined that the influx of fresh water from the Greenland ice sheet is "freshening" the North Atlantic Ocean and could disrupt the Atlantic Meridional Overturning Circulation (AMOC), an important component of global ocean circulation that could have a global effect. Researchers say it could impact the future climate in places such as portions of Europe and North America.
Their study on the influence of freshwater influx on Labrador Sea convection and Atlantic circulation is published in a new issue of the journal
Nature Communications
.
"We derived a new estimate of recent freshwater flux from Greenland using updated GRACE satellite data," said USF professor
Tim Dixon
. "The data suggest that the influx of freshwater from Greenland is accelerating, and has changed the Labrador Sea in ways that could lead to a weakening of the AMOC."