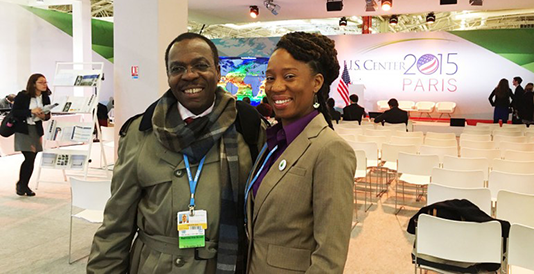 January 6, 2016 -
Florida Agricultural and Mechanical University (FAMU) President
Elmira Mangum
, Ph.D., recently sent a letter to U.S. President Barack Obama pledging to solidify FAMU as a leading university in climate action. In her letter, Mangum applauded President Obama for the progress made to promote clean energy and climate action before the United Nations Climate Negotiations that took place in Paris in November. To ensure FAMU's active participation in climate change discourse, FAMU Sustainability Institute (FAMU-SI) Faculty Director
Odemari Mbuya
travelled to Paris to attend the United Nations Framework Climate Change Convention Conference of the Parties 21st convening (COP21), where he gave a presentation.
As part of the Historically Black Colleges and Universities (HBCU) Climate Change Initiative, political science professor John Warford, Ph.D., accompanied FAMU environmental and political science students who traveled to Paris to participate in COP21. In addition to encouraging University participation in climate action on a global scale, Mangum is also dedicated to making all FAMU campuses more environmentally conscious. Her efforts include signing the American College and University Presidents' Climate Commitment (ACUPCC) in January 2014; FAMU's participation in the Better Buildings Challenge, committing to ensure all buildings on campus are 20 percent more energy efficient within 10 years; and the establishment of the FAMU Sustainability Institute (FAMU-SI), which is tasked with coordinating the implementation of broad social, environmental, and economic sustainability programs.
Mangum is among 600 college and university presidents and chancellors who have committed their institutions to take bold and catalytic climate actions. "Although we are optimistic that world leaders will reach an agreement to secure a transition to a low-carbon future, we recognize the urgent need to act now to avoid irreversible costs to our global community's economic prosperity and public health," Mangum said in the letter. As part of Mangum's climate leadership commitment, she pledged that FAMU will develop a Climate Action Plan by May 2016, make carbon neutrality and climate resilience a part of the curriculum, expand research in climate science, and establish community partnerships to implement strategies for reducing carbon dependency on campus and in the surrounding community.
Source:
FAMU News Release
Photo L-R: Odemari Mbuya, Ph.D. and Simone English, doctoral student