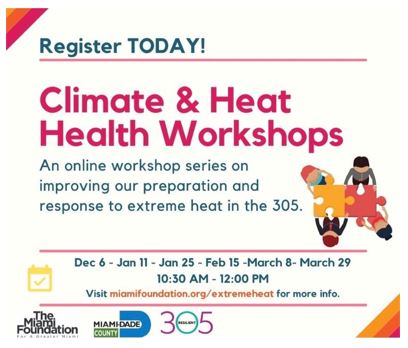 In 2021, Miami-Dade County received a challenge grant offer from the Adrienne Arsht-Rockefeller Foundation Resilience Center to fast start an extreme heat initiative under the Resilient305 program. This grant led to the creation of the world's first Chief Heat Officer position. The Chief Heat Officer (CHO) is responsible for improving coordination, accelerating existing heat protection efforts, and initiating new work that reduces the risks and impacts of heat stress and extreme heat for vulnerable communities in Miami-Dade County. On behalf of Miami-Dade County and Resilient305, the CHO has developed and launched a multi-stakeholder Climate and Heat Health Task Force in partnership with The Miami Foundation to analyze existing conditions and vulnerabilities and identify strategies to address current and future impacts of extreme heat on human health, lives, and livelihoods.  
 
CLIMATE AND HEAT HEALTH TASK FORCE
 
The Climate and Heat Health Task Force will prioritize short-term actions, create a framework for prioritizing future actions and for monitoring progress, and recommend staffing and other resource needs for implementation around extreme heat. The Task Force is made up of appointed members representing policymakers, scientific experts, and health care professionals as well as two citizen members.
To ensure community voices are heard and elevated, the Task Force is inviting the public to attend the following workshops and help improve our County's preparation and response to extreme heat:
Outreach & Education – December 7 | 10:30 am
Data & Research – January 11 | 10:30 am
Emergency Preparedness & Response – January 25 | 10:30 am
Workers Exposed to Heat – February 15 | 10:30 am
Housing – March 8 | 10:30 am
Streets & Trees – March 29 | 10:30 am