The Florida International University Institute of Environment's Sea Level Solutions Center and the Office of Global Learning present: Environmental Sustainability Sessions. These five interactive sessions will discuss the challenges and opportunities in sustaining Miami's environment. The series will kick off with an Overview of Environmental Sustainability in Miami, followed by topics that include Organic Material Recycling (composting), Water Resources, Extreme Heat, and Sea-Level Rise. Learn more about environmental change and what you can do to help sustain our natural resources!
Dates:
September 10
September 17
October 1
October 15
October 29
Time: All sessions are 4 PM to 5 PM Eastern Time
Register for the sessions HERE.
​Resilient305 is exploring ways to help Greater Miami and the Beaches adapt and transform in the face of challenges, both expected and unexpected, from the effects of climate change to inadequate infrastructure, pandemics and cyber-attacks. The Miami Foundation will provide a brief overview of the project and initial implementation, followed by segments from the Chief Resilience Officers for the three founding partners (Miami-Dade County, City of Miami Beach, and City of Miami) on their resilience strategies. The webinar will feature The Miami Foundation Director of Public Affairs Director Loren Parra, Miami-Dade County Chief Resilience Officer James F. Murley, Miami Beach Deputy Resilience Officer Amy Knowles, and City of Miami Chief Resilience Officer Alan Dodd, P.E.
This event has been approved for 1.5 AICP CM credits for planners (#9204356), 1.0 contact hours for Florida Environmental Health Planners, and credits for Certified Floodplain managers. 1000 Friends is applying for professional certification credits for Florida attorneys and Florida DBPR Landscape Architects but cannot guarantee credits will be approved.
Date: September 30, 2020
Time: 12:00 - 1:30 PM Eastern Time
Learn more and register for the webinar.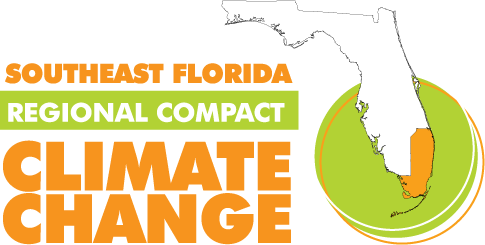 The 2020 Annual Climate Leadership Summit is now VIRTUAL and registration is now open!
Given the ongoing COVID-19 pandemic, the Compact invites you to join a shorter, virtual event on October 13, 2020, from 1:00 PM – 5:00 PM EST.
The Annual Climate Leadership Summit is a major regional event hosted by the Southeast Florida Regional Climate Change Compact to share knowledge, showcase climate action, engage leadership across sectors, and mobilize the collaboration needed to tackle this significant challenge at scale. The summit attracts innovative thinkers and leaders from the business, government, academic, and nonprofit community to exchange dialogue and ideas on expanding the region's capacity to respond to climate challenges and build climate resilience.
Register and find more information about the program HERE.