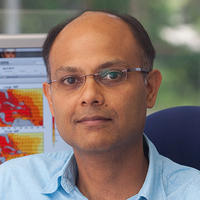 June 2, 2015 -
Popular opinion says that tropical storms and hurricanes that make landfall mitigate droughts in the southeastern United States. But that simply isn't true, according to a Florida State University researcher.
Vasu Misra
, associate professor of meteorology and co-director of the FCI and FSU, disputed the commonly held belief in an article published in the journal
Climate Dynamics
. "The perception that land-falling tropical cyclones serve to replenish the terrestrial water sources in many of the small watersheds in the southeastern U.S. seems to be a myth," Misra said. "This perception is widespread because the southeastern United States has the largest share of land-falling tropical cyclones in the country." Misra and Satish Bastola from Georgia Institute of Technology examined historical rainfall records and from that, created a soil moisture-based drought index for 28 watersheds across the southeastern United States for a 58-year period. They then reconstructed the database by eliminating the rainfall on days when a tropical storm or hurricane had made landfall. The end result? Soil moisture levels in these watersheds remained about the same.
FSU Press Release
Climate Dynamics Journal Article