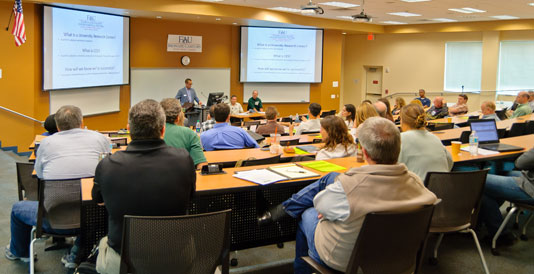 March 30, 2015 -
Under the direction of
Dr. Colin Polsky
, at the helm of Florida Atlantic University's
Center for Environmental Studies (CES)
since August 2014, a number of workshops and opportunities for climate-related exchange and collaboration are on the horizon for FCI researchers and the wider community of stakeholders in Florida.
For the Spring, CES will host a workshop allowing representatives from FCI Universities and Southeast Florida Regional Climate Change Compact to meet and exchange ideas for research and collaboration. These two institutions have just started an exciting, formal working relationship to ensure that cutting-edge climate-related research meets the needs of some of the region's leading stakeholders.
Following the success of their February 2015 USGS-FAU "Scientist Meet & Greet," CES will host two more technical workshops, both relating to Everglades restoration. The "Precipitation downscaling, state-of-the-science" workshop will be held June 22-23, 2015, and the "Invasive species: scientific and management frontiers" workshop will take place in July or August. Both events will be convened in the Ft. Lauderdale area.
Continuing the popular series of Sea-Level Rise Summits pioneered by Emeritus CES Director Dr. Leonard Berry, CES plans for early 2016 "A Warming Arctic: Shared Futures from Alaska to Florida." The meeting will convene leading researchers, decision-makers, and other interested stakeholders to discuss the state of sea-level rise science, and how public policy and private adaptation efforts can lessen the impacts everywhere.
And somewhere on the horizon, CES hopes to convene one more meeting based on the subject "Architecture/design responses to sea-level rise in the built environment." The academic year 2015-2016 promises to be a year full productive conversation and scientific advancement.
For more information or to participate in CES initiatives, please visit
www.ces.fau.edu
and/or contact Mary Beth Hartman, Conference & Outreach Coordinator, Center for Environmental Studies, FAU via email to
This email address is being protected from spambots. You need JavaScript enabled to view it.
or by telephone at 954-236-1203.